TFI Friday 13th April 2018
It's the 13th of April it's a Friday 13th and it's the final TFI Friday of the season! It is the final countdown.
For the last 6 weeks or so we have been enjoying some excellent rare wines supplied by our favourite intellectual wine torturer. Lets call him "Jim"! Our torture is almost at an end as this is the last time we need to guess all the variables that can be guessed or known about a certain wine. On Friday the winner will be declared, and the genius wine expert revealed, the prize presented. Don't arrive before 5.36pm as the doors will be shut. Once open (5.37 ish) you will find on the bar FREE nibbles. Last week they were really, really good. Well done our representative of the real Hulltoon Hooswives inc.

Rugby this week restricted to the Melrose seevens. If we can beat Peebles in the first round we might get on the tele again! Who can forget gorgeous George Arnott dancing behind the posts?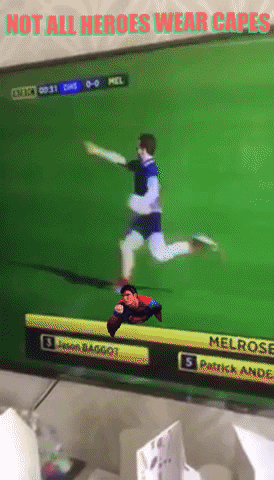 Seevens are a very popular annual event in Melrose. The week after this, we play our last home game at Morgan RFC ground v Jed Forest on the 21st April. This has added spice because they still can win the league and therefore promotion to the Premiership. Will Dundee spoil their party? Do come along and see. It's a 3pm KO. Still a couple of places for our Ian Cooke carvery special at Morgan. Its only £35 and Derek Lawson or Ron McHoul are the best people to book with.
Its also our Spring ball that night and still a last chance to tell Ken McKay you are coming if you have not done this already!
Hope you have a great Rugby weekend.
Gerry Tosh